Spring Training Central
Kansas City Royals
The KC Royals' Spring Training stadium, which is called the Baseball City Complex (but is actually located in Haines City) is yet another beautiful Spring Training facility. Baseball City has numerous practice fields that are great places for autographs. Also, if you search behind the practice field where the Royals take BP prior to the game, you can scavenge for homerun balls.

Sadly, even though Baseball City is beautiful, it is usually quiet and empty during games due to the fact that the stadium is for sale, so little time is spent promoting it. It was supposed to be a top-notch state of the art facility, but not many people are interested in it because the Royals are not contenders. When I went in 1999, I asked the usher where my seats were. He explained to me that it didn't matter because nobody would show up.
However, in more recent trips, there has been much higher attendance… go figure.
Senior citizens of the area work as volunteers to support the Royals at this facility. They are friendly and love their jobs- really a great bunch of people.
As far as food goes, Baseball City definitely has the best corn dogs in Florida. You can visit the stand in the lawn on the left field side.
This is really a great stadium with a very friendly atmosphere. I would definitely recommend it to anyone visiting spring training.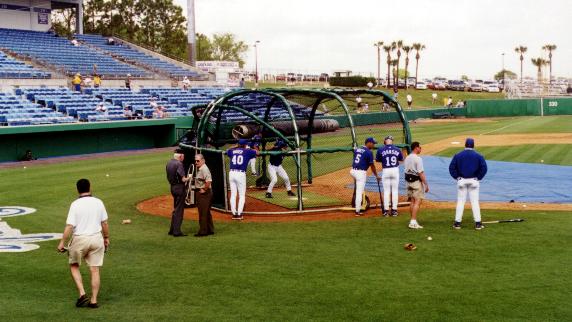 Look how few people are here for batting practice! Still a great place to see a game, espcially if you can get a seat in the lower level like in this picture. Notice #5 in the picture...that's right, George Brett!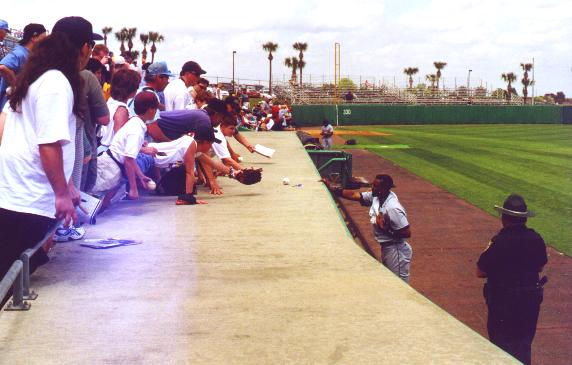 Visiting Detroit Tiger Tony Clark signs autographs at the third base dugout. You can see that is gets very crowded, which is why I recommend trying to get autographs at the practice field. Remember to be nice to the players- just a few seconds after this picture was taken someone tossed a ball at Tony without him looking. He got extremely ticked off and stopped signing. These players are people- show them some courtesy.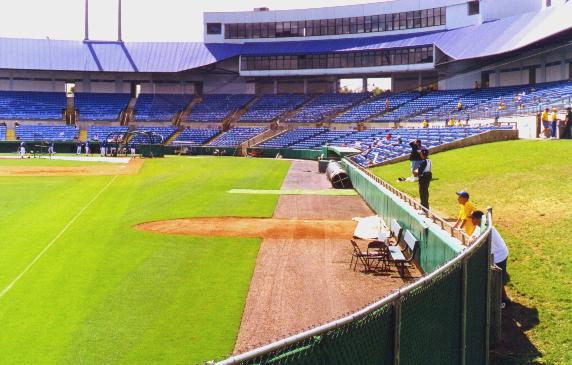 The view from the outfield lawn is not too bad at all. Look at that beautiful bright blue all over the stadium and the bright green grass.
Autograph tip: I got every single Royal on the roster's autograph, and probably some who weren't, in about 10 minutes by waiting at their practice field behind the stadium before the game. There is rarely more than four or five other fans here, and the players are more than happy to get autographs because they aren't pressured to sign as many as possible. You can usually get George Brett's autograph here, or you can try to get it when the team takes BP inside the stadium before the game.